In Memoriam – Prof. Lawrence Wong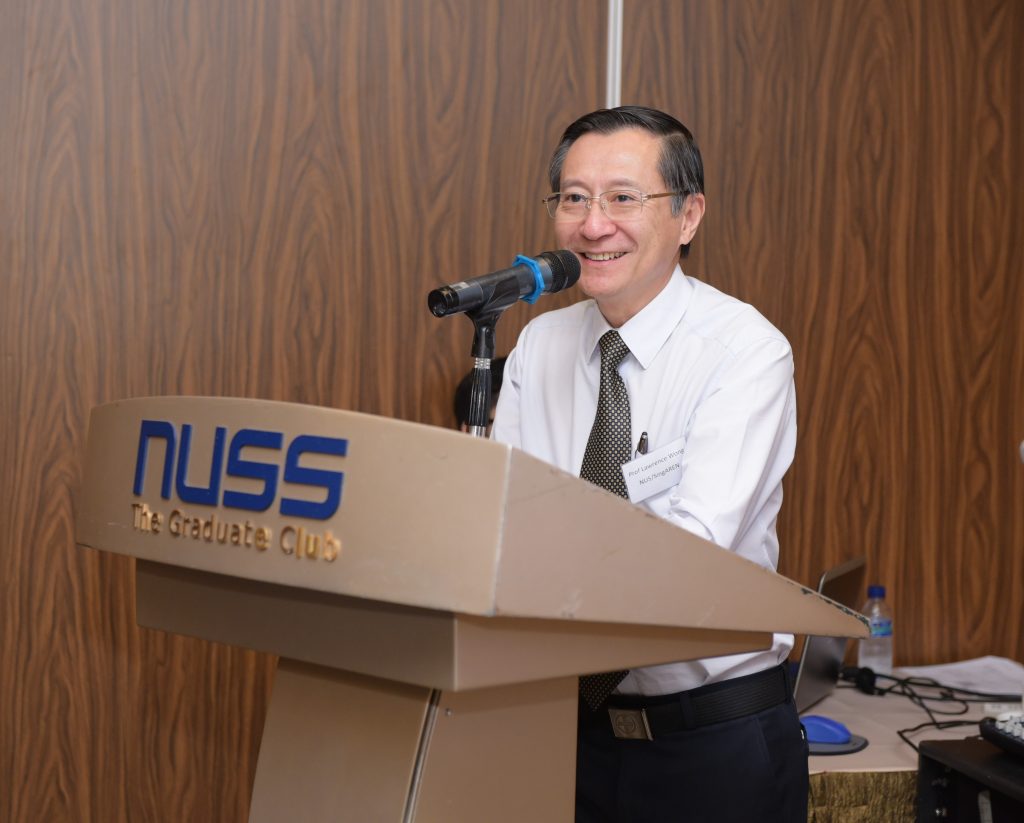 It is with profound sadness that SingAREN announces the passing of SingAREN's President, Emeritus Professor Lawrence Wong Wai Choong, on 12 Oct 2022. Prof. Lawrence Wong was a visionary, always ready to embrace and advocate innovative Research and Education projects.  He co-founded Singapore Advanced Research and Education Network (SingAREN) in 1997, which was registered as a society in 2003.   For over two decades, Prof. Lawrence Wong was greatly dedicated and passionate in leading SingAREN. He shall be deeply missed by the Singapore and international Research and Education communities.
Messages from our partners:
=====================
I'm totally shocked and so deeply sad at his passing. He was one of my best friends I've ever got to know in the Asia-Pacific regional activities including APAN and IEEE. He was so gentle, prudent, smart, and friendly that anybody knowing him cannot but love him dearly. He was the model cosmopolitan you'd ever want to be. Why is the fate so cruel to and jealous of the finest person? I do express my deepest condolences to Ms. Wong and his family in all, and I'd wish he rest in peace. He will always live in our heart.
DY Kim
=====================
Dear family and coworkers,
We have always been with the smile of Professor Lawrence Wong, and we have worked together with him happily for many years.  I believe he will be always with us, encouraging to make a better world.
Cordially,
Kazunori Konishi
APAN Director of NOC
Tokyo, Japan
=====================
The APAN Community has lost a staunch supportive friend and colleague with the passing of Professor Lawrence Wong.
Lawrence has been a tangible presence within APAN for so long, his loss will be inconceivable to many.
His direct contributions to the Community over the years and his personal, warmth and supportive collegial style will be missed by the many friends he has gained over the years.
He was a lovely man and will be missed.
Gerrit W. Bahlman
=====================
Dear Prof. Lawrence,
It was a great privilege to work with you in the context of the Global R&E Network (GREN) in general and on the first 100G connection between Asia and Europe for R&E (CAE-1) and the Asia Europe Ring (AER) in particular. Your vision and foresight have made SingAREN and the SingAREN Open Exchange (SOE) a Go To-place in Asia for R&E Networking.
May you rest in peace,
Erik-Jan Bos
CEO Forum Secretary & Senior Advisor, NORDUnet A/S
=====================
We are very sorry to hear of the passing of Professor Lawrence Wong, I vividly remember that Lawrence flew to Tokyo in 2002 to give us valuable advice at the Asia Broadband Backbone Planning committee hosted by the Japanese government's Ministry of Internal Affairs and Communications. The Internet community in the Asia Pacific is eternally grateful for his intellectual leadership.
We pray for the repose of Professor Lawrence Wong's soul.
Shigeki Goto
Waseda University / APAN-JP
=====================
Lawrence was an inspirational and thoughtful individual. He understood well the complexities of relationships in the Asia Pacific region and had a calm and inclusive approach to a wide variety of issues. He was a key member of the APAN coordinating committee making valuable contributions to developments in the region.
He is sadly missed by his many friends.
George McLaughlin
Bodalla NSW 2545, Australia
=====================
Wong Wai Choong or Lawrence as we knew him was a colleague of mine for over three decades, through our many shared projects and multinational academic organizations.  He had a gentle and kind demeanor, coupled with an incisive intellect and a lovely sense of humor.  I will miss our planned and chance meetings throughout the Asia-Pacific Region and the opportunities we had to break bread together at the surprisingly obscure restaurants (which were usually a pleasant surprise) he choose in whatever country we found ourselves.  He was a delight to spend time with and I know he is missed by his family, and his many friends and colleagues. Lawrence Wong was a remarkable individual and our lives are richer for having known him.
Louis Fox
President & CEO, CENIC
(Former professor and administrator at the University of Washington and Duke University)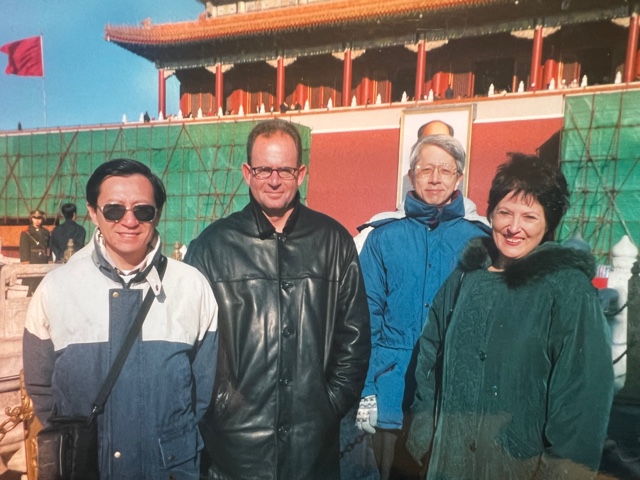 The above photo was taken in China during an Association of Pacific Rim University (APRU) meeting around Year 2000 – Prof Lawrence Wong is first from the left, and Louis Fox is second from the left.  
(Photo contributed by Louis Fox)
=====================
Dear Lawrence's family, 
We were heavily shocked and feeling very sorrowful when we suddenly heard the sad news that Lawrence passed away. 
It was with a great sense of loss for our community. We want to let you know that you have our greatest sympathy and our hearts are truly saddened. 
Lawrence was more than a wonderful leader of SingAREN, a supporter of APAN and TEIN, a professor who greatly supported the collaboration with CERNET and Tsinghua University, he was always so kind, calm and considerate to us when we worked together.
And we know his passing will not only leave a void in our lives, but in the hearts those who knew him.
Lawrence will always remain within our hearts and we hope our every good wish for your swift recovery.
With our deepest sympathy,
Jianping Wu, director, CERNET Center
Jie/Jennifer An, CERNET International Collaborations
On behalf of CERNET Team and Tsinghua University, China
=====================
Hi
I am really shocked and saddened to hear this. Lawrence has been a guiding force in building and steering SingAREN from the very start and has made a huge contribution to the wider R&E community across the world. I first came to know him when TEIN2 was being put together back in 2004 and have valued his constructive and perceptive views and support over the years. He always contributed positively and in the best interests of the wider community. I will greatly miss him.
With my deepest condolences for his family, friends and colleagues,
David West
Project Manager
GÉANT
=====================
Dear Prof. Lawrence,
On behalf of NORDUnet, I express my sincere condolences to family, friends, and colleagues of Prof. Lawrence Wong with his passing away.
Prof. Lawrence has been a great proponent of collaboration in Global R&E Networking. He was instrumental in a number of important collaborations such as CAE-1 and AER and in APOnet, in both of which SingAREN plays a major role.
His vision, his desire to collaborate, and his friendly and open mind will be dearly missed.
May he rest in peace,
Valter Nordh, CEO. NORDUnet
=====================
Hello,
I was shocked and saddened to hear news of his passing away. Lawrence has been a great friend and colleague in SingAREN over the past 10 years, and has always come up with new and innovative ideas to solve problems. He had given me great advice in my roles at SIngAREN and APAN, so that we as a community can further the likeminded interests of providing secure high speed network connectivity to researchers and educators in Singapore and the region. His dedication, enthusiasm, flexibility, and kindness to help others has been exemplary, and we shall miss him very much as we continue to serve the needs of our telco and network community in the Asia Pacific region. May Lawrence Rest In Peace and may his legacy continue in the good works he has already established in SingAREN and his other institutional appointments.
Rgds,
Dr John Kan
Vice President, SingAREN
Board Member, APAN
=====================
This was not the sort of news I was expecting when I saw an announcement
from APAN regarding Lawrence. I thought it would be a notice of another
well deserved award but instead I see this devastating news of his passing.
My deepest condolences to his family, friends and colleagues.
Mark Prior
Network Architect
Member of the ACM
mrp.net
=====================
Dear Bin Lay and colleagues,
We are much saddened by learning the passing of Prof Lawrence Wong. Lawrence is remembered for many of his contributions to the APAN community, and for lending his generous support to the HARNET community, sharing with us valuable insights and experience in many occasions. May he rest in peace and his family be comforted in this difficult time. He will be missed by many of us in the years to come.
Samuel Kwan, HARNET
=====================
The message caught me by surprise. Lawrance Wong was not just a friend,
but a close collegue and academic who worked with all of us in both
MYREN and APAN. His contributions to the R&E community is vast and deep.
His absence will definitely be felt by the older generation, while his
potential for passing knowledge will be missed by the younger generation.
I will miss him personally. May his Soul Rest in Peace.
—
Sureswaran Ramadass
Prof Emeritus, Internet Engineering.
Malaysia University of Science and Technology (MUST)
=====================
It was a pleasure and an honour to have had the opportunity to interact and exchange ideas with Lawrence over the years. He was a model of gentle persuasion and diplomacy taking everybody's ideas into account and forging compromises.
His contribution was exemplar and we will miss the wisdom of his judgment and recommendations.
Yves Poppe
Consultant to NSCC
=====================
Dear Bin Lay,
It came as shocking to know about passing away of Prof. Lawrence Wong. I had interacted with him during my days in ERNET and I found him to be a person with full of life and always helpful. He played key role in spread of APAN in its early days. His demise is a great loss to APAN community. I do express my deepest condolences to Ms. Wong and his family. I pray that his soul rest in peace
Dipak Singh
New Delhi, India
=====================
Dear Team:
Thanks to Prof Lawrence Wong for having good memories. If I can be invited for security talks or Research on modern emerging threats to Advance Cyber-Physical Systems and also in IoT networks in 5G Networks through Edge computing/End Users. The tour can be virtual or in person for future talks.
Warm Regards.
Faraz Ahmad
Doctoral Student at Air University, Islamabad
Member APAN-Sec IoT Security Working Group
Asst. Manager IT & Networks (Cyber Security Professional-Blue Team)
National University of Computer & Emerging Sciences-FAST
=====================
Deeply saddened at Lawrence's premature passing. A gentleman through and through, community-driven, inclusive, warm and with a superb sense of humour (and the most catching giggle). I recall getting stuck with Lawrence in an elevator once, suffering from claustrophobia I panicked, he distracted me with family anecdotes and jokes – to the point that I felt annoyance rather than relief when that elevator got again into motion…)
A big loss, not only for the SingAREN but the entire R&E community. And Lawrence will be dearly missed.
My sincere condolences to his family and colleagues.
Helga Spitaler
Senior International Relations Project Manager
GÉANT
=====================
I have known Lawrence for more than forty years. I first met him when I was an undergraduate at the Loughborough University in the early 80s. Since then our paths have crossed many times. In the last few years, we grew to know each other better as we worked towards a common goal for SingAREN and also NSCC. He is indefatigable and since I have known him, he had remained forever young and cheerful.
He was committed in everything he does. He co-founded the SingAREN Society and gave his fullest to improve connectivity and offer services to the IHLs in Singapore and partners worldwide. He was an optimist and a realist at the same time. A true gentleman and trusted friend, we have always worked amicable together in all that we do.
I have lost a confidante and a friend and will be dearly missed. RIP, Lawrence
Francis Lee
=====================
I was truly saddened to hear of Lawrenceʻs passing. He was a gentleman, a friend, and a colleague over the past decades. Whether in Honolulu, in Singapore or somewhere else in the world, he always had a warm smile and a good idea to bring people together. All of us who worked with Lawrence will remember him fondly and miss him terribly.
David Lassner, President
University of Hawaiʻi
=====================
I was fortunate enough to have the pleasure of working with Lawrence as we established the CAE collaboration and the shared infrastructure/collaboration between Europe and Asia/Australia. It was a first collaboration and asked all of us involved to build our circle of trust and explore new ways of working together. The CAE project has been well regarded as an example of what can be achieved when (N)RENs collaborate and Lawrence was a key actor in this. His polite, calm and gentlemanly like conduct at all times helped us progress to our outcome.
Paul Rouse
Chief Community Relations Officer
GÉANT
=====================
Dear SingAREN , NUS and family of Lawrence
I'm shocked and so deeply sad hear this messages
Lawrence and Singaren help for Indonesia's Inherent/IDREN and ITB in
Indonesia
He always encourage us with many positive energy and thinking
I do depest condolences to Ms. Wong and his family in all, and I'd wish
he rest in peace. we always remember his contribution and live in our
heart.
Basuki Suhardiman
ITB
IDREN
=====================
I've known Prof Lawrence Wong since my days at the Institute of Infocomm Research and benefited from his leadership at the National Grid Office.
Lawrence was a great boss, mentor and friend. He was approachable, kind and always concerned for his team and friends. Lawrence was very knowledgeable in various fields of IT and leadership. He was always willing to share his experiences and gave valuable advice to his friends around him. I am sure he had positively impacted many of us under his leadership and care.
He is one that instilled trust in others. For this reason, together with Prof Francis Lee, they established close ties with our local and international partners and made Singapore an important location for peering Research and Education networks in the region.
We will sadly miss a leader and friend, and the wine toasting!
Jon Lau, A*STAR
=====================
I was greatly saddened to hear of Prof. Wong's passing.
He has contributed much to Singapore and the region over the last couple of decades, and the community has lost a champion.
I have had the privilege to work and engage with him on a number of fronts over the years.
His insights and guidance will be sorely missed, as will his gentle and cheerful nature.
My heartfelt condolences to his family, friends and colleagues.
Rajnesh SINGH
Regional Vice President, Asia-Pacific
Internet Society
=====================
Dear Prof. Lawrence Wong,
On behalf of TEIN*CC and Asi@Connect, I was shocked and cannot express my deep sadness. I give my condolences to his family.
Indeed it is a big loss in our community. Prof. Lawrence was greatly credited for the development of Trans-Eurasia Network development with his insight and passion.
In addition, he has taken a big step in the Singapore Advance Research & Education Network(SingAREN) and contribution for TEIN. We will remember him ever and ever as our friends and most dedicated person for our community.
Our deepest condolences to the loss of SingAREN.
Best Regards
Louis Hyunho Choi
Executive Officer / Ph. D(Candidate, Business Management)
=====================
Hi Bin Lay and SingAREN colleagues,
I share your loss and here is my tribute to Prof Lawrence Wong:
I was saddened to know of the passing of Prof Lawrence Wong. Working alongside him during my days serving in SingAREN EXCO and organising APAN meetings had given me valuable opportunity to learn from him, not only in the area of IT Networks, but also about how to handle challenging situations. His enthusiasm to share and impart knowledge, be it in academic or personal areas and his kindness toward fellow colleagues and friends are things I will always remember of him. To all SingAREN and APAN friends, take care and God bless!
Angeline Ng
ex-SingAREN EXCO member
=====================
I am writing on behalf of KAUST to express our condolences to the family and colleagues of Lawrence, and to share our appreciation and gratitude to Lawrence for his years of selfless service to the community. His death comes as a shock to us all here who were looking forward to seeing him again at the next AER steering committee meeting. Lawrence showed the vision and collaboration that is so important in our tight-knit community, and through his leadership SingAREN became a strong partner and friend of KAUST over the years. He will be deeply missed.
Kevin Sale
Networks & Communications Manager
King Abdullah University of Science and Technology (KAUST)
=====================
Dear Prof. Lawrence,
I'm so shocked and very sorry to hear of his passing. Prof. Lawrence was so gentle and thoughtful.
He has contributed a lot to APAN for so long and been an insightful leader of SingAREN but also Asia Pacific NREN community.
My deepest condolences for his family, friends and colleagues.
Buseung Cho
Director, KREONET
=====================
Dear Francis
My sincere condolences to you and your co-workers on the passing of Lawrence. I have fond memories of my interactions with Lawrence, a true gentleman with a great sense of humor. Please pass on my condolences to his family.
We will remember him fondly at GEANT as a trusted partner and friend.
Sincerely
Erik Huizer
CEO GÉANT
=====================
Dear Prof.Lawrence
I had a chance to meet you last December when I visited Singapore.
At that time, I couldn't make it because you were quarantined due to COVID.
I can't still believe it was my last chance to meet you, even though you're not in the same world now.
You're my old friend and colleague from the beginning of my Research and Education network community days. I could understand Singapore and SingAREN through you.
Thank you and hope you rest in peace.
Sanggyun KIM, Used to be part of R&E Community via ANF, KOREN and TEIN
=====================
Hello Lawrence,
When I heard that you are not here anymore, I felt quite sorry that I did not ask your whereabouts and regards when I visited Singapore last September. I am very sorry about it. You were as others noted here always gentle with good smiles which made me comfortable and closer to you through all the venues whether they are private or official meetings. It was really pleasant and honor to know you and work with you. Those good memories will be kept in my deep heart; they will be evoked whenever there are bad or distressed times, in order to cheer me up and continue my journey of life. Thanks a lot, and please rest in peace.
Patch Lee
TEIN*CC
=====================
NSCC has lost a staunch partner, a close ally, and a dear friend. Lawrence was not only a bridge between the NRENs and our global HPC Centre network, he was also very much involved in helping NSCC on various aspects – as the Co-Chair of the international SupercomputingAsia (SCA) conference and helping NSCC with organisational and staff development. 
Lawrence will be dearly missed. 
NSCC Management & Staff
=====================
As one of the pioneers of SingAREN and the lead PI of the original project, I had the great fortune of having Lawrence as my guide and mentor for more than two decades.   His insights, thoughtfulness, attention to detail, and patience helped keep me grounded and shepherded NSCC, and myself, through challenging times. 
I will continue to admire his ability, with Francis Lee Bu Sung,  to  build SingAREN to become a globally respected NREN and a pioneering international hub for advanced research networking through our STAR-N funding programme. We will surely work hard to continue your legacy. 
Goodbye, dear friend. You will be missed.
Tan Tin Wee
Chief Executive
National Supercomputing Centre