Atmospheric Modeling – Towards Sustainable Societies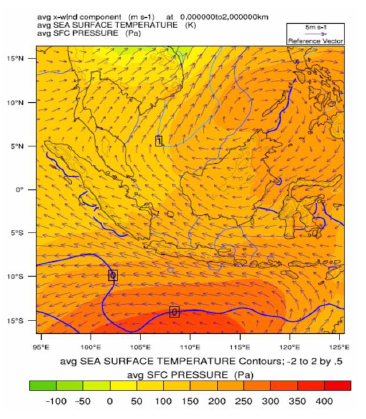 June 3, 2013 – Climate changes have become a major concern in the recent decade, with talk on global warming. There are researchers around the world who have been working towards the measurement as well as modeling the atmosphere, so that we can better simulate the patterns in the weather as well as other atmospheric phenomena.
Researchers at Earth Observatory of Singapore (EOS), an institute of Nanyang Technological University (NTU), have been active working with atmospheric models for research into weather and climate. Dr. Koh Tieh-Yong, a Principal Investigator at EOS and an assistant professor at School of Physical and Mathematical Sciences (SPMS), explains, "EOS's niche is regional climate modeling with a focus on Southeast Asia. We are now addressing the issue of how well models capture the current climate, with a long-term perspective to develop modeling techniques to project climate conditions in coming decades. The data generated from EOS's existing models is compared with the historic atmospheric data to review the robustness of our climate models."
A good infrastructure is required for researchers like Assistant Prof. Koh Tieh-Yong and his team
to pursue their research activities. This includes the computation resources provided by High Performance Computing Centre (HPC@NTU), as well as the network infrastructure.
NTU is connected via Singapore Advanced Research and Education Network (SingAREN) to the international Research and Education network, including Global Ring Network for Advanced Applications Development (GLORIAD) and Trans-Eurasia Information Network (TEIN) at the rate of 1 Gbps. This enables researchers to efficiently exchange large volume of data.
Associate Professor Francis Lee, President, SingAREN said, "I am happy that SingAREN is able to meet the needs of researchers like Assistant Prof. Koh. In this age of global research collaboration, high speed international network is a necessity."
Contact: Ms Ong Bin Lay, Secretariat Executive, ongbl@singaren.net.sg
About Singapore Advanced Research and Education Network (SingAREN)
SingAREN is Singapore's Research and Education Network. The network is dedicated for Research and Education (R&E) activities, such as E-Learning, video-conferences and research data management across international boundaries. Our members consist of the Institutions of Higher Learning, Government and network industry players.
We maintain connectivity among our Singapore members and RENs in other countries through international communities such as such as APAN (Asia Pacific Advanced Network), GLORIAD (Global Ring Network For Advanced Applications Development), Internet2 and TEIN (Trans-Eurasia Information Network).
About Earth Observatory of Singapore
The Earth Observatory of Singapore conducts fundamental research on earthquakes, volcanic eruptions, tsunamis and climate change in an around Southeast Asia, toward safer and more sustainable societies. EOS is a Research Centre of Excellence based at Nanyang Technological University and is jointly funded by Singapore's National Research Foundation and the Ministry of Education.
EOS earth scientists help understand and address natural hazard challenges facing Southeast Asia in the 21st century. Faculty members' research covers geophysics, geodesy, petrology, geochemistry, hydrology, climatology, numerical and kinetic modelling among many other disciplines. EOS also collaborates with faculty across NTU in natural hazard-related research on seismic engineering, hydrodynamics and atmospheric physics as well as computer engineering.
The Earth Observatory of Singapore research contributes to forecasts of natural processes that will aid governments, communities and businesses to anticipate and adapt creatively to these environmental challenges, as well as develop and implement visionary policies to mitigate risks that nature poses to our societies. Programs in education and outreach, art, media and sustainability are emblematic of the observatory's commitment to embed an awareness of earth processes, resources and limitations into society.