Enabling Cancer Genomics Research with Advanced R&E Networks
27 July 2016 – SingAREN enables the Cancer Science Institute of Singapore(CSI Singapore) to have high-speed access to cancer genomics research database from the U.S.
A/Prof Henry Yang,Head of the Bioinformatics Core(right) and Mr Tan Kar Tong, Bioinformatician of theCancer Science Institute of Singapore (CSI Singapore).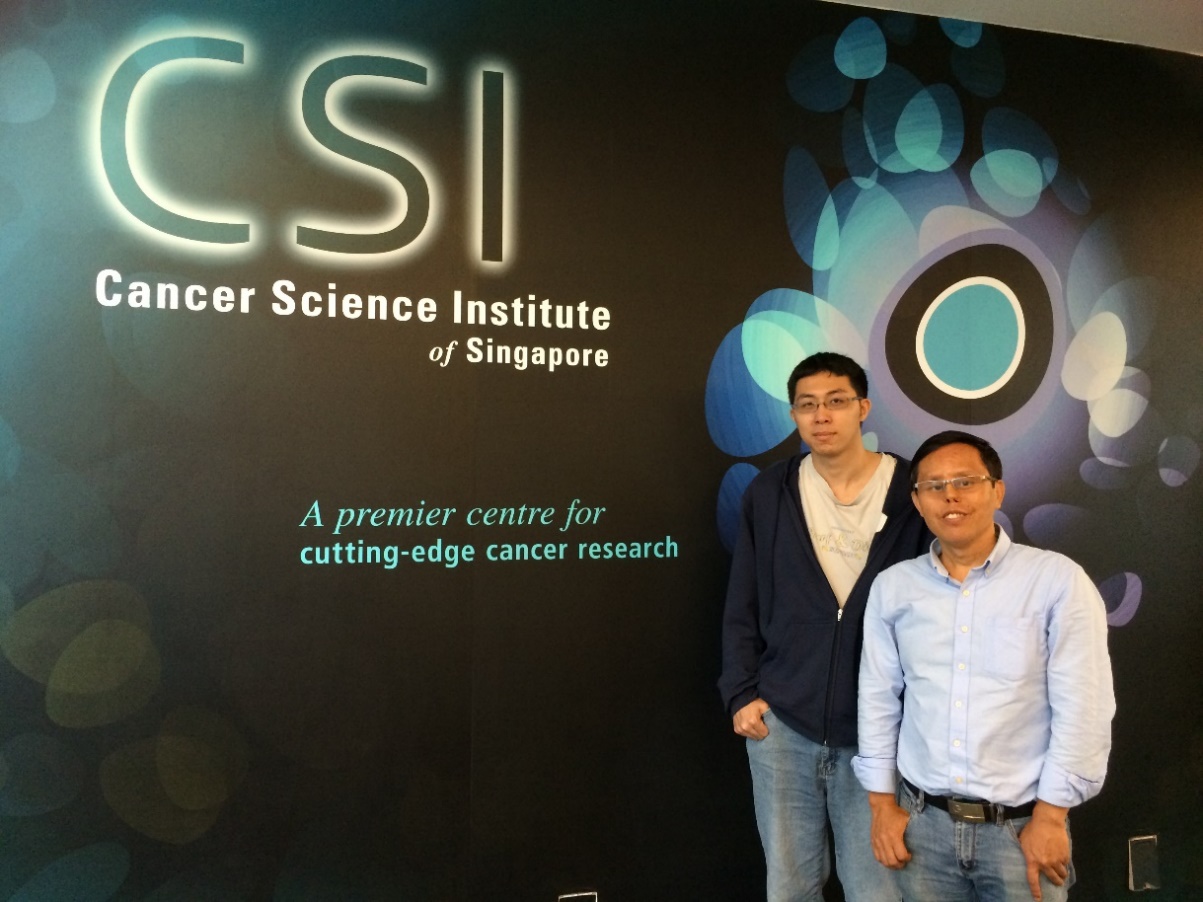 The Cancer Science Institute of Singapore (CSI Singapore) www.csi.nus.edu.sg conducts basic and translational cancer studies by adopting a multifaceted approach through its multi-disciplinary research programs: Cancer Stem Cell and Biology, Experimental Therapeutics and RNA Biology Centre. It involves laboratory-based studies to targeted therapies in humans towards creating more effective cancer treatments, and improving existing cancer treatments.
CSI works closely with basic scientists and clinicians across Singapore in various institutes, including the National University of Singapore (NUS), National University Hospital (NUH), National University Cancer Institute, Singapore (NCIS), Duke-NUS Medical School and Institute of Molecular and Cell Biology (IMCB).
The Bioinformatics Core is an arm within CSI whose primary role is to derive novel insights from the computational analysis of large biological datasets. The Bioinformatics Core in CSI frequently collaborates with counterparts and access data repositories across the globe, such as The Cancer Genome Atlas (TCGA), a collaboration between the National Cancer Institute (NCI) and National Human Genome Research Institute (NHGRI) in the U.S. It contains 2.5 petabytes of data describing tumor tissue and matched normal tissues from more than 11,000 patients, and is used widely by the genomic research community.
The amount of data that the Bioinformatics Core in CSI downloads ranges from 3 – 5 GB to 100 – 200 GB each, typically in the terabyte scale.
CSI is a user of National Supercomputing Centre (NSCC)'s services, whereby NSCC is connected to SingAREN. Thus, CSI is able to benefit from SingAREN's 100G connectivity between Singapore and the U.S.
Mr Tan Kar Tong, Bioinformaticianfrom CSI, said "Prior to the link upgrade by NSCC, the estimated time for download is at least 2 – 3 weeks to obtain a significant chunk of data that we required. Following NSCC's link upgrade, there was a tremendous improvement in the download time, and we could acquire the data we need for processing in just a matter of days." Professor Henry Yang, Head of the Bioinformatics Core, added that, "With the computational power and network connectivity provided by NSCC and SingAREN, we can now fully utilize these large public datasets to generate novel biological insights and create potentially important clinical impacts."
Dr John Kan, President, SingAREN said, "SingAREN is dedicated in providing high bandwidth connectivity to enable cancer genomics research for accelerating discovery of cancer treatments to benefit mankind."