SingAREN's Instrumental Orchestration of Essential Network Fabric for End-User Utilisation of NSCC's High Performance Computing Facilities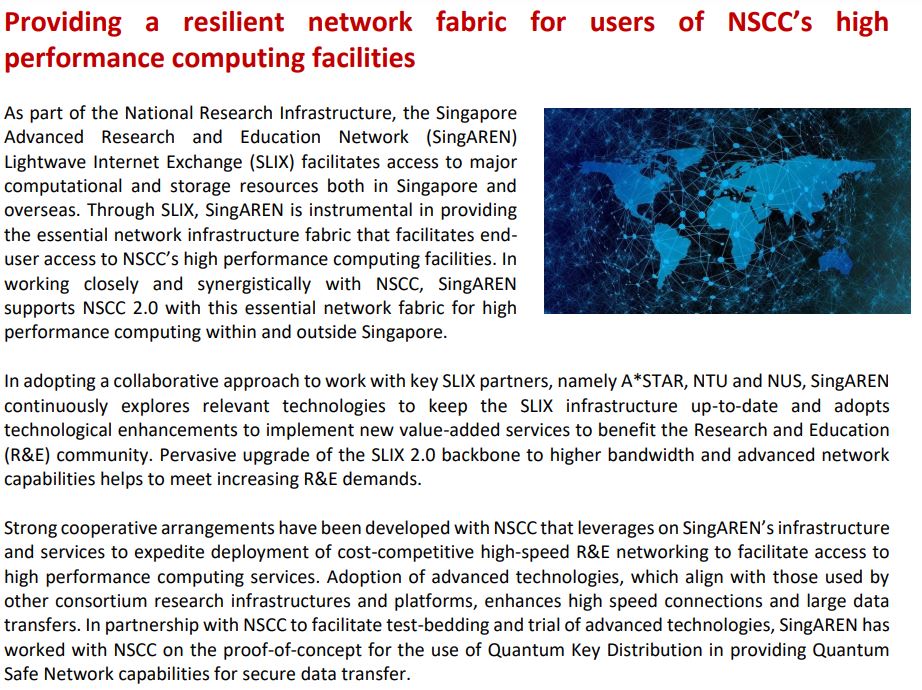 February 14, 2022
News & Events
3 Jan 2022 – Through the SingAREN Lightwave Internet Exchange (SLIX), SingAREN is instrumental in providing the essential network infrastructure fabric that facilitates end-user access to NSCC's high performance computing facilities. As part of the National Research Infrastructure, SLIX facilitates access to major computational and storage resources both in Singapore and overseas. End-user access for NSCC's external network connectivity requirements is via SingAREN's domestic network backbone. In working closely and synergistically with NSCC, SingAREN supports NSCC 2.0 with this essential network fabric for high performance computing within and outside Singapore.
In adopting a collaborative approach to work with key SLIX partners, namely A*STAR, NTU and NUS, SingAREN continuously explores relevant technologies to keep the SLIX infrastructure up-to-date and adopts technological enhancements to implement new value-added services to benefit the Research and Education (R&E) community. Pervasive upgrade of the SLIX 2.0 backbone to higher bandwidth and advanced network capabilities helps to meet increasing R&E demands.
Strong cooperative arrangements have been developed with NSCC that leverages on SingAREN's infrastructure and services to expedite deployment of cost-competitive high speed R&E networking to facilitate access to high performance computing services. Adoption of advanced technologies, which align with those used by other consortium research infrastructures and platforms, enhances high speed connections and large data transfers. In partnership with NSCC to facilitate test-bedding and trial of advanced technologies, SingAREN has worked with NSCC on the proof-of-concept for the use of Quantum Key Distribution in providing Quantum Safe Network capabilities for secure data transfer.
On the international front, SingAREN collaborates with other national REN (NREN) peers on international connectivity to facilitate collaborative research. Indeed, through these efforts in the past 15 years, SingAREN has established SingAREN Open Exchange (SOE) as a major regional Research and Education Network (REN) hub, thereby reaping mutual benefits for both Singapore and other global partners. Through establishing important global links with various key international partners, SingAREN has built a baseline REN infrastructure and services to benefit the Singapore R&E community. This has enabled researchers in Singapore to benefit from the high bandwidth international links, for the exchange of data required for their research.
Serving as a crucial step forward in advancing research collaboration and sharing, SingAREN has co-organised the Data Mover Challenge with NSCC. This global competition brings contestants together to compete on the best method, based on the most advanced and innovative technologies and solutions, to transfer large amounts of data over very long distances via Data Transfer Nodes (DTNs). This is an important area that enables researchers to have access to very large datasets that are located across the globe.
Beyond just meeting the growing connectivity requirements of the R&E community, SingAREN provides the network infrastructure and associated value-added services to interconnect member institutions within and outside Singapore. SLIX is implemented as a resilient and secure network infrastructure with a long-term leased fiber plant that results in lower overall total cost of ownership.
Putting in place a Business Continuity Plan (BCP) enhances resilience for a robust and reliable REN infrastructure. SingAREN's BCP comprises primary and secondary Points of Presence (PoPs) at two separate data centre locations, at Global Switch and Equinix respectively. Network resilience is provided via linkages to SLIX partners and international access via these two PoPs, thereby catering for automatic failover arising from PoP breakdown and link breakage. NSCC leverages on SingAREN's network infrastructure to achieve resilience and business continuity. In particular, NSCC relies heavily on the connectivity between NSCC Aspire 1 facilities at Fusionopolis and the NSCC's Active Business Continuity Plan (ABCP) for disaster recovery storage which is located at NTU.
Cybersecurity threats are continually on the rise along with digitalisation efforts. SingAREN enhances security preparedness with implementation of cybersecurity monitoring with an alert notification system to protect the R&E network and systems. Cybersecurity monitoring and alert mechanisms help to defend against Distributed Denial of Service (DDoS) and other malicious attacks. Early warning and alert infrastructure with the provision of regular and timely reports to enhance vigilance can protect SingAREN member institutions against cyber-attacks.
One of SingAREN's value-added services to improve R&E business and operational effectiveness includes Singapore Access Federation (SGAF), which is eduGAIN inter-federation identity and access management service. SGAF enables Single Sign-On to simplify user account management and convenient login to NSCC resources. Eduroam service enables users from SingAREN member institutions to roam globally and continue access to Internet at visited institutions in various parts of the world. A secure SingAREN value-added web-based service, FileSender SG, enables users to send large files of up to 50 GBs to others in the R&E community at a much faster speed of 40 MB/s. A 12GB file takes only 5 minutes to be uploaded/downloaded.
Besides expanding connectivities to the wider community of institutional users and international partnerships, SingAREN has established international partnerships with other NREN in the region, USA and Europe to facilitate international research and collaboration. SingAREN welcomes new ideas which can benefit the R&E community. Do visit https://www.singaren.net.sg/ and contact SingAREN at contact@singaren.net.sg with your ideas and proposals on improving R&E network infrastructure.
This article was published in the December 2021 issue of NewsBytes, NSCC e-Newsletter.
Written by Linda Lim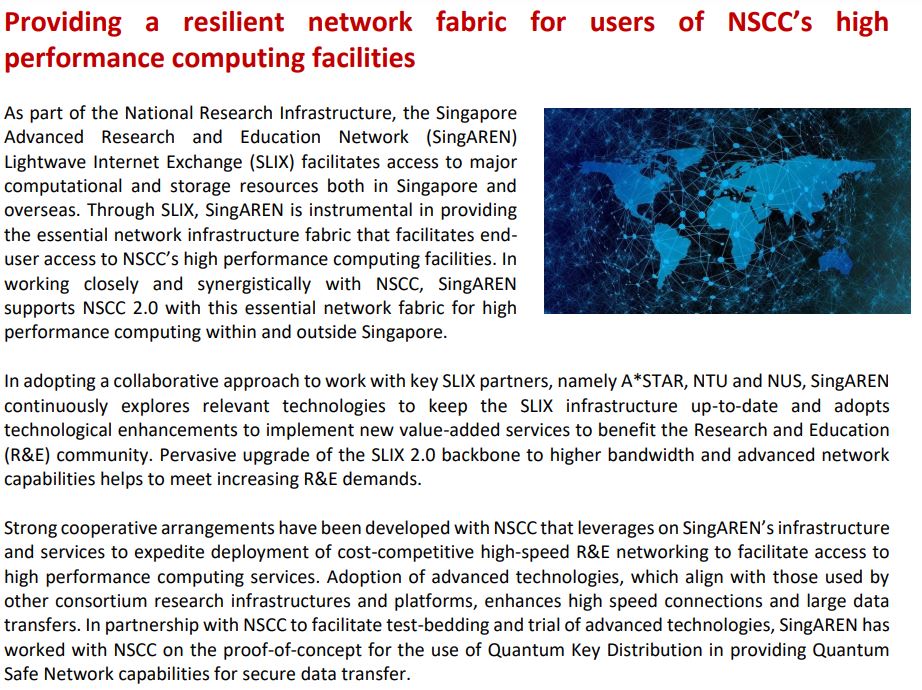 Image Credit: December 2021 issue of NewsBytes, NSCC e-Newsletter