Asi@Connect Newsletter May 2018 – Interview with SingAREN
May 10, 2018
News & Events
10 May 18– TEIN*CC conducted an interview with A/Prof Francis Lee, Vice-President of SingAREN, which was featured in the May 2018 Asi@Connect Newsletter.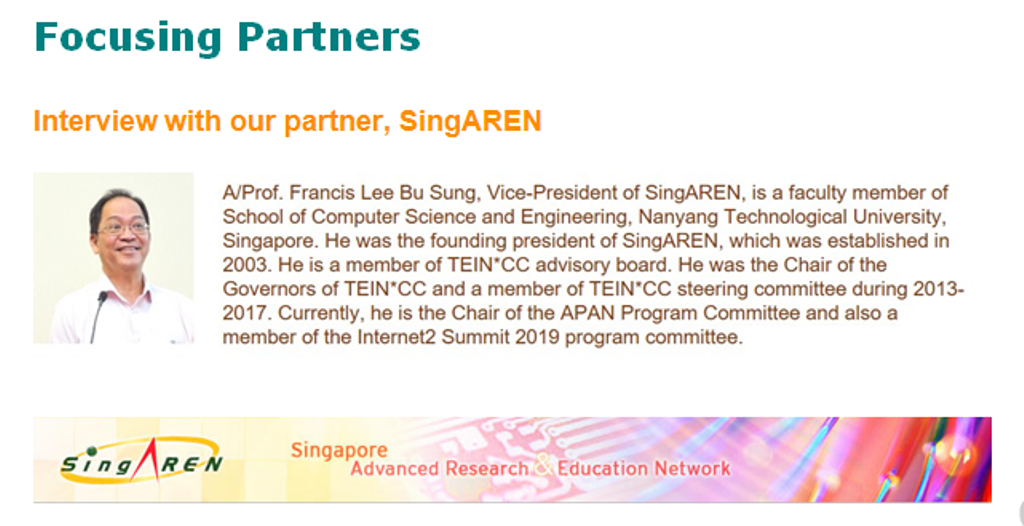 Singapore Advanced Research and Education Network (SingAREN, www.singaren.net.sg) is Singapore's national research and education (R&E) network.  It is the sole provider of local and international networks dedicated for serving the R&E community in Singapore.  SingAREN's members consist of the Institutions of Higher Learning, research organizations, Government and network industry players.
 
SingAREN started as a national project funded by the Singapore government in 1997 to take on the challenge of ensuring that Singapore's research and education community is connected to the international community. On 30 September 2003, SingAREN was officially registered as a not-for-profit society.
SingAREN's objectives are:
To be an advocate and champion for advanced network applications and technology in Singapore;
To be a platform for collective representation of the community of research and education networks (RENs) in Singapore;
To facilitate cost-competitive adoption of advanced Internet technologies for the research and education community in Singapore.
SingAREN operates the SingAREN Open Exchange (SOE) by upgrading the previous Gigabit Internet Exchange, thereby providing improved higher speed connectivity to meet increasing traffic demands in and out of Singapore. SOE is co-funded by SingAREN and National Supercomputing Centre (NSCC) Singapore. SOE acts as a single point of presence (PoP) in Singapore for establishing interconnections with other countries. Some key connections are the SG-US (100G), SG-HK-JP (100G) and SG-EU (10G) connections.  These links are managed by SingAREN and cofunded by NSCC, in collaboration with international partners (Internet2, NICT, TEIN*CC).  With the establishment of SG-HK-JP 100G link, it completes the Asia Pacific Ring (APR) for advanced R&E collaboration. Launch of the First 100G International R&E Link in Asia, 1 Dec 17. 
SingAREN has launched the following value-added services to benefit the research and education community in Singapore:
eduroam and eduGAIN– SingAREN operates eduroam and eduGAIN service in Singapore.   
Database Mirroring Service – https://dbmirror.singaren.net.sg
The service mirrors major overseas scientific databases in Singapore, thus enabling collaborations among the research communities in Singapore and overseas.  
Cloud Computational Service – https://www.singaren.net.sg/ccs.php
Provides access to Virtual Machine (VM) services for the R&E community in Singapore.
Singapore Access Federation: https://www.singaren.net.sg/SGAF-services.php Singapore Access Federation (SGAF) is a federated identity management service that provides single sign-on to registered identity providers and service providers. This makes it convenient for registered users to use their home organization's credentials to access services. 
Please refer below for some applications that were enabled via SLIX:
Supporting A*CRC & NSCC Demonstrations at SuperComputing (SC) Conferences
The SLIX infrastructure facilitated A*CRC's network demonstration at SC14 involving long distance 100G InfiniBand for global supercomputer collaboration. At SC15, the "Infiniband Circumnavigation of the Globe" by A*CRC was demonstrated.  At SC16, A*CRC's InfiniCortex Demonstration, which involves the set-up of a global WAN Infiniband network was carried out.
JGN Experiment over 100G SG-HK-JP Link, 6 February 2018
SingAREN in collaboration with NICT and NTU, carried out high speed 8k and 4k video streaming of the Sapporo Snow Festival, and Sceneries of Singapore through SLIX and the SG-HK-JP link.
Why SingAREN is important to Singapore and Asia-Pacific?
SingAREN provided the Institutes of higher learning and research institutes in Singapore with high speed local and international network. The SOE is a single point of peering for our members as well as our international partners.  Due to Singapore location, SOE has took on the role to be a major R&E POP for the region with high speed international links across the pacific, within the region and to Europe.  
In addition to connectivity, SingAREN has provided its members with new services, e.g. access to Supercomputer, via SingAREN Access Federation, shared database, etc. These services have facilitated the researchers' needs in data and compute intensive research. 
What is the main challenge faced by the R&E communities?
The challenge of NREN is how to provide network and services which is needed by the community. NREN has to be innovative and cost effective in its network deployment and services and push the boundary of technology. Federation is the next level for NREN to work together to deploy services, eg.eduroam, access federation etc.
What is SingAREN's interest in Asi@Connect activities?
SingAREN is a founding member of TEIN project and been actively contributing to the TEIN project, which was renamed to Asi@Connect. We feel that by working together with our neighbours to achieve bigger things, e.g. working with Asi@Connect, we have now built a resilient network and a community that is stronger and growing beyond just network, but more focus on services and manpower development.  Some examples of our activities/contribution are as follows: 
Setting up of the SingAREN Open Exchange as a major NREN POP to support an efficient, resilient network interconnection in the region. 
SingAREN and National Supercomputing Centre (NSCC) Singapore working with TEIN*CC, co-funded the upgrade of the SG-EU from 2.5G to 10G, enabling more data intensive applications.
Extending eduroam in the Asia Pacific (XeAP)  SingAREN was a project partner for the regional eduroam project, Extending eduroam in the Asia Pacific (XeAP) in 2016, which was led by AARNet and funded by TEIN (predecessor to Asi@Connect). 
About Asi@Connect www.tein.asia/
Asi@Connect provides dedicated high-capacity internet connectivity for research and education communities across Asia-Pacific; operating at speeds of up to 10 Gbps, it currently interconnects universities and research centres in 21 countries/economies across the region.
It also connects to the 50 million European researchers and academics served by the GÉANT network and supports collaborative programmes in areas such as Earth observation, disaster warning, climate research, food security, delivery of e-health and e-learning.
Asi@Connect marks the 4th phase of EU funding to the Trans-Eurasia Information Network (TEIN)programme which was launched as an Asia-Europe Meeting (ASEM)
initiative in 2001; it successfully established a regional research and education internet network (TEIN) from scratch in 2004 and progressively expanded its geographical footprint over the years. During this new phase, greater emphasis will be placed on delivering the project with increased involvement of additional partners within the Asia-Pacific R&E community.