Inaugural SingAREN Virtual Roadshow on 21 May 2021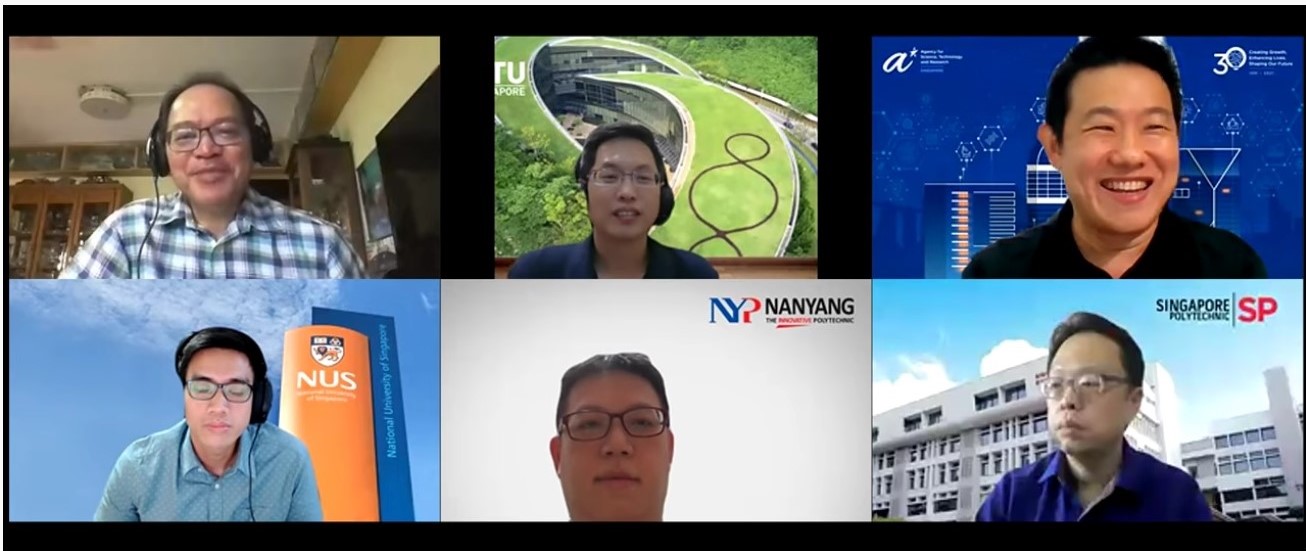 July 05, 2021
News & Events
28 May 2021 – The inaugural SingAREN Virtual Roadshow was held on 21 May 2021 to engage the Research and Education community as well as to share case studies of how connecting to the SingAREN Open Exchange has benefitted various institutes of higher learning (IHLs) and research institutes and centres (RICs). The SingAREN Lightwave Internet Exchange 2.0 (SLIX 2.0) network platform has been elevated to be a component of National Research Infrastructure. With this additional responsibility, we leveraged on this roadshow to seek inputs from the Research and Education community to determine how SingAREN could enhance value to IHL/RIC institutional members in terms of technology network infrastructure, value-added services and awareness building in the next few years. This roadshow also presented an excellent opportunity for network staff, academics and scientists to collaborate.
We are honoured to have NUS Chief IT Officer, Ms. Tan Shui-Min, to deliver the keynote speech on "Pushing The Boundary of Singapore's R&E Digital Transformation and Innovation Through Ultra-Connectivity". SingAREN President, Prof Lawrence Wong, then presented an overview of SLIX 2.0 and other SingAREN services.
Representatives from A*STAR (Agency for Science, Technology and Research), NSCC (National Supercomputing Centre, Singapore), NUS (National University of Singapore), NTU (Nanyang Technological University) and SP (Singapore Polytechnic) gave their testimonials of the various ways of how they have benefited from connecting to the SingAREN Open Exchange. Mr. Shih Chih Chuan, senior manager, GIS (Genome Institute of Singapore), A*STAR, gave a glowing testimonial of how SingAREN has enabled new capabilities at GIS, A*STAR. A*STAR researchers and their collaborators have greatly benefitted from rapid data transfer facilitated by SingAREN. Otherwise, these researchers might need to resort to the use of physical hard disk drives for data transfer.
"SingAREN is absolutely critical to our operations at the Genome Institute of Singapore and has enabled us to do things which we were not able to do otherwise and to expand our services to the wider community." Mr. Shih enthused.
Sharing testimonial about the close collaboration between NSCC and SingAREN, Mr. Alvin Chiam, Network Manager, NSCC gave more details on the various collaboration projects between SingAREN and NSCC. SingAREN, together with NSCC and HPC centres in Australia and Japan, are co-organising the Data Mover Challenge 2021 (DMC21), which is a biennial competition that aims to bring together experts from industry and academia in a bid to test their software and solutions for transferring huge amounts of research data. DMC21 seeks to challenge international teams to come up with the most advanced and innovative solutions for data transfer across servers located in various countries that are connected by 100 Gbps international research and education networks.
Dr. Wang Junhong, Principal HPC Specialist, NUS, shared about how SingAREN has brought about higher bandwidth, better resilience and additional redundancy for NUS. SingAREN has facilitated the setup and functioning of the local NSCC login nodes for NUS Kent Ridge campus. Supporting the 100 Gbits/s network between NSCC and NUS, SingAREN has established the internal high speed research network among researchers for collaboration.
Dr. Lim Joo Ghee, Deputy Director, School of EEE, SP, gave his testimonial about how SP has benefited from updates on industry and technology trends in next generation and advanced networking technologies through participating in seminars, workshops and conferences organised by SingAREN (such as AWS Joint Webinar, SingAREN Huawei Seminar, Virtual Private Cloud Seminar, APAN Meetings & Conferences). As a SingAREN member, SP has also benefitted from collaboration on adopting advanced networking technologies into projects and curriculum as well as networking opportunities with members and partners to bring about collaboration opportunities in internship and co-developing of curriculum.
Mr. Christopher Lek, Director, Cyber Security, Centre for IT Services, NTU, shared his cybersecurity perspectives and the cybersecurity project that he has started at SingAREN.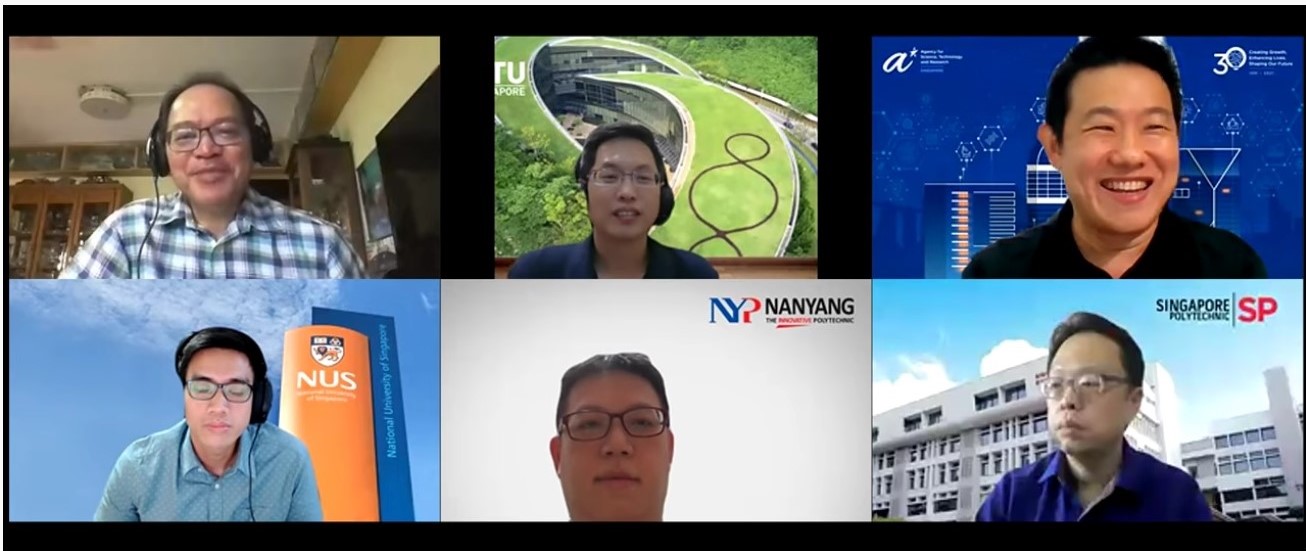 Figure 1: Moderator and panelists at the lively panel discussion (From top left: A/Prof Francis Lee (SingAREN Secretary), Mr. Christopher Lek (NTU) and Mr. Jon Lau (A*STAR) and from bottom left: Mr. Rikky Purbojati (NUS), Mr. Jeffery Tay (NYP) and Dr. Lim Joo Ghee (SP)).
SingAREN Secretary, A/Prof Francis Lee moderated an engaging panel discussion on "What SingAREN can do to further enhance value for member institutions" with panellists from A*STAR, NUS, NTU, NYP and SP. Mr. Jon Lau, Deputy Director (Governance & Planning), A*STAR, Mr. Rikky Purbojati, HPC Associate Director, NUS, , Mr. Christopher Lek, Director, Cyber Security, Centre for IT Services, NTU, Mr. Jeffery Tay, Assistant Director (IT Infrastructure), NYP, and Dr. Lim Joo Ghee, Deputy Director, School of EEE, SP, were the panelists.
The panel session was conducted with lively exchange of views and ideas. Some interesting ideas which surfaced from this panel discussion include how SingAREN can look into providing additional value-added services such as data pool for transfer and sharing of data as well as expanding the user base. SingAREN was suggested to look into supporting and facilitating the community who would like to use cloud services in a better and more seamless manner instead of via commercial ISPs.
Prof Wong concluded the roadshow with the kick-off of Engagement Series with IHLs/RICs by encouraging ideas from the community to formulate a strategic proposal to NRF for the next phase. This roadshow served to kick start a series of dialogue sessions with the stakeholders from the various institutions to continue our discussion.
Written by Linda Lim