KAUST Launches New 400 Gbps Global International Connectivity to Major Research and Education Network Hubs in Europe and East Asia
March 09, 2021
News & Events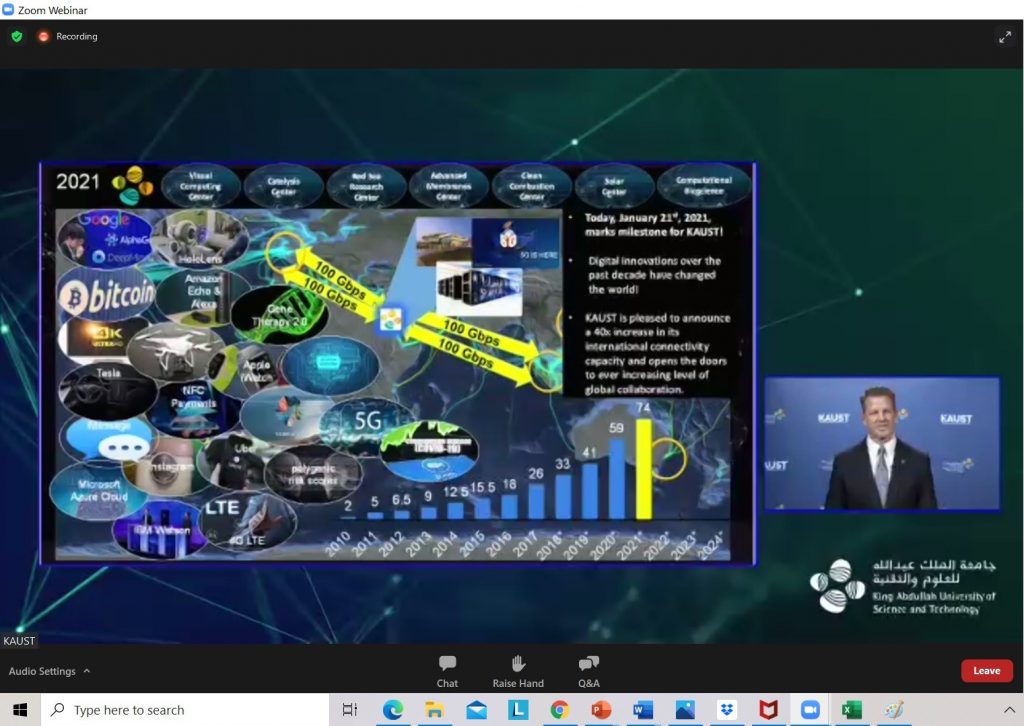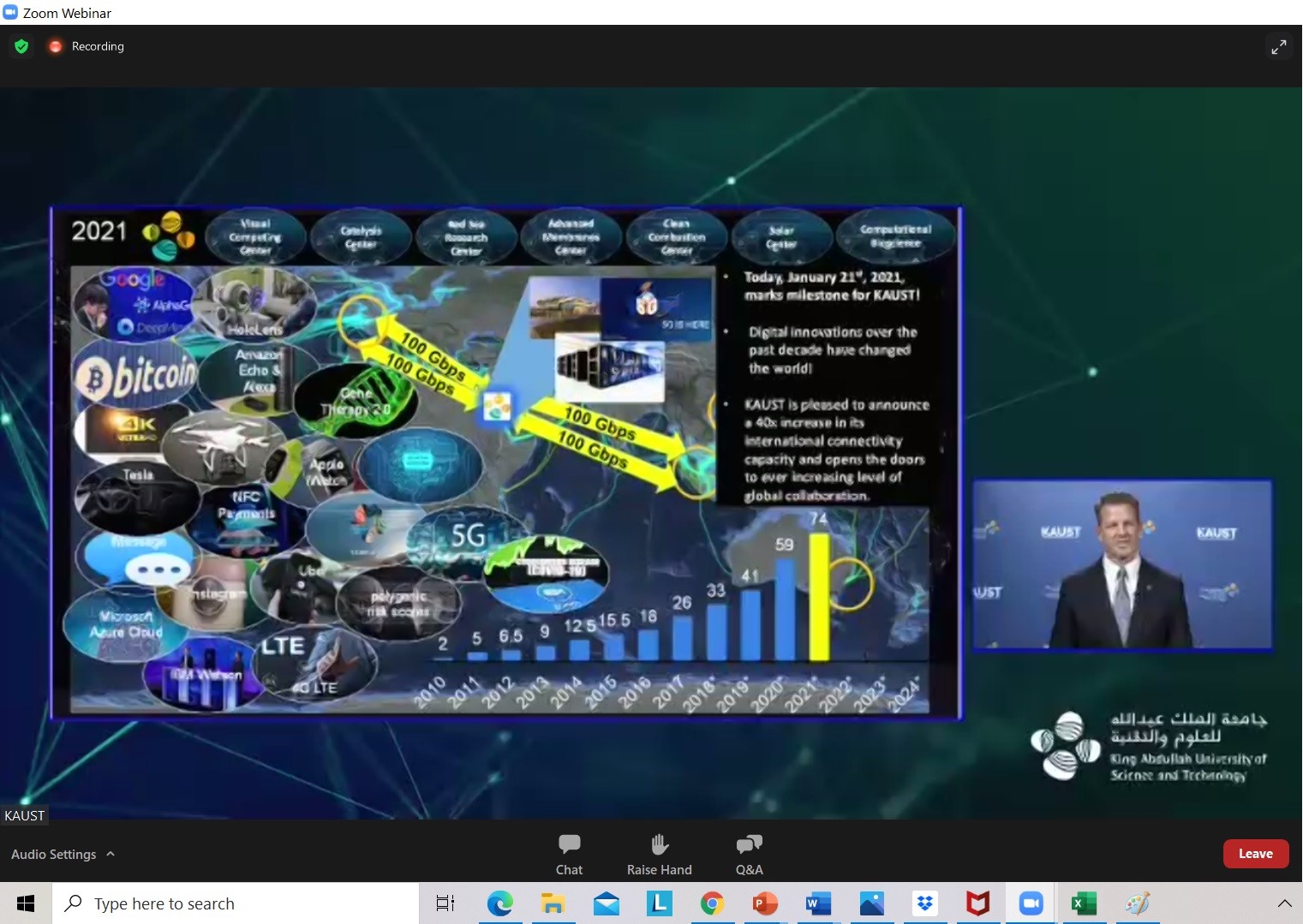 Figure 1: KAUST CIO Jason Roos presenting the new connectivity links at the global launch event on 21 Jan 2021.
28 Jan 2021 – King Abdullah University of Science and Technology (KAUST) has launched a new 400 Gbps international connectivity, which is an upgrade from the previous 10 Gbps connection speed, to help KAUST researchers collaborate with their international peers at super-fast speeds. This new 400 Gbps international connectivity links KAUST to major research and education network hubs in Europe and East Asia.
The launch of multiple 100Gbps links from KAUST to Singapore and KAUST to Amsterdam provides KAUST's faculty and researchers with global connectivity infrastructure that allows research data to move seamlessly around the globe at high speeds and low costs. With 400Gbps capacity, this upgrade is a significant increase on the existing 10Gbps links commissioned in 2009 and enables KAUST to maintain its position at the centre of global collaborative research.
The launch event on 21 January 2021 celebrates the culmination of many years' work to design, procure and implement high-speed connectivity to the research and education network hubs in Europe and East Asia. The connectivity launched will help to ensure that KAUST maintains its position as a leading research institution, well-positioned to create impact within the region and the world.
"Global collaboration for the advancement of scientific research is a key element in what we do and stand for at KAUST," said Professor Tony Chan, president of KAUST. "Upgrading the speed of connectivity and empowering our infrastructure will enhance our capabilities to continue to deliver world-class research in collaboration with our partners across the globe."
The new capacity, comprising 200 Gbps from KAUST to Amsterdam and 200 Gbps to Singapore connects KAUST to major research and education network hubs in Europe and East Asia. The new connections provide KAUST's researchers with fast, efficient data transmission and reliable access to scientific resources and cloud service providers anywhere on the planet.
According to KAUST CIO Jason Roos, "This new capability will transform the scientific landscape for KAUST by providing a technological ecosystem that will truly enable researchers to easily collaborate with peers located at any the top tier research institutes across the globe."
"SingAREN is delighted to collaborate with KAUST in the new 200Gbps connection, and leveraging SingAREN as a regional network hub, opens exciting opportunities for collaborations among the global research communities." said Lawrence Wai-Choong Wong, President SingAREN.
Moreover, the new links will enable high-performance science applications, including high-volume bulk data transfer, remote experiment control and data visualisation. With this capability, a KAUST researcher will be able to collaborate with peers anywhere on earth without geographical limitations.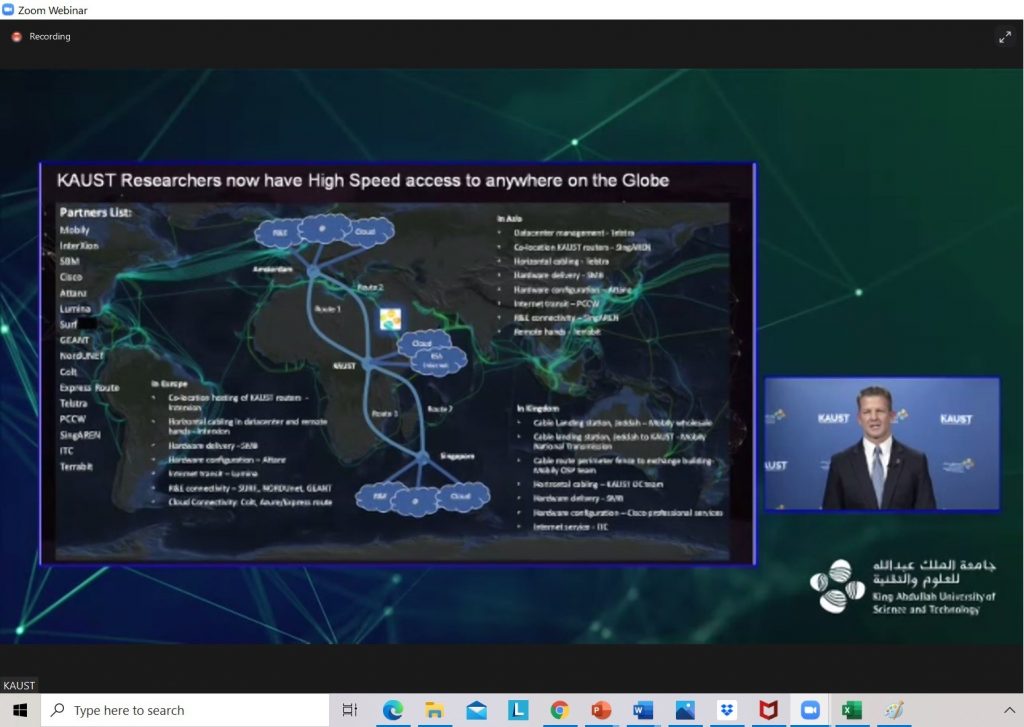 Figure 2: KAUST CIO Jason Roos sharing how the new connectivity links have greatly facilitated global data transfer for KAUST researchers.
An unprecedented speed
While multiple 100 Gbps links for research and education institutions are common in most other parts of the world, the high-speed connections at KAUST are unprecedented in the Middle East. Leveraging this capacity, KAUST researchers will be able to overcome bandwidth limitations that had previously throttled and frustrated collaborative discovery by unleashing the full potential of KAUST's state-of-the-art, data processing resources, such as the supercomputer Shaheen II.
With previous connectivity limitations, some researchers resorted to sending datasets on hard disks in the mail. Before the upgrade, it could take more than 24 hours to transfer a 100 Terabyte data set. With the new 400 Gbps bandwidth capacity, this would take only 37 minutes. For example, all nine Blu-ray disks of "Star Wars: The Complete Saga" could transfer from KAUST to a university in California in approximately 10 seconds.
National and global collaboration
Mobily, the Saudi telecommunications services company, supplies four 100 Gbps dedicated circuits to KAUST as part of a long-term contract. It owns an optical fiber optic network in the Kingdom as well as submarine optical fiber network cables, which KAUST is using to get to Amsterdam and Singapore.
This arrangement has enabled KAUST to build direct connections into the SURF and NORDUnet research and education networks in Europe as well as the SingAREN network in Singapore. These interconnects provide KAUST researchers with fast and reliable access to resources in Europe and Asia as well as the US.
The upgrade will transform the scientific landscape for KAUST researchers by providing a technological ecosystem that will enable them to easily collaborate with peers located at any of the top tier research institutes across the globe.
Partnering with SingAREN
Prof Wong was invited as a speaker for the virtual global launch event on 21 January 2021. He shared that SingAREN is a non-profit society that advocates and champions advanced network applications and technology. SingAREN provides dedicated local & international networks for Singapore's research and education community. Collaboration with international partners for the international links provides SingAREN with a degree of resilience and backup in the event of failure. SingAREN is pleased to work with KAUST and welcomes KAUST to join this partnership. SingAREN also organises a wide range of knowledge-sharing and technical training workshops, advanced technology test-beds and demonstrations as well as social networking events to facilitate research collaborations.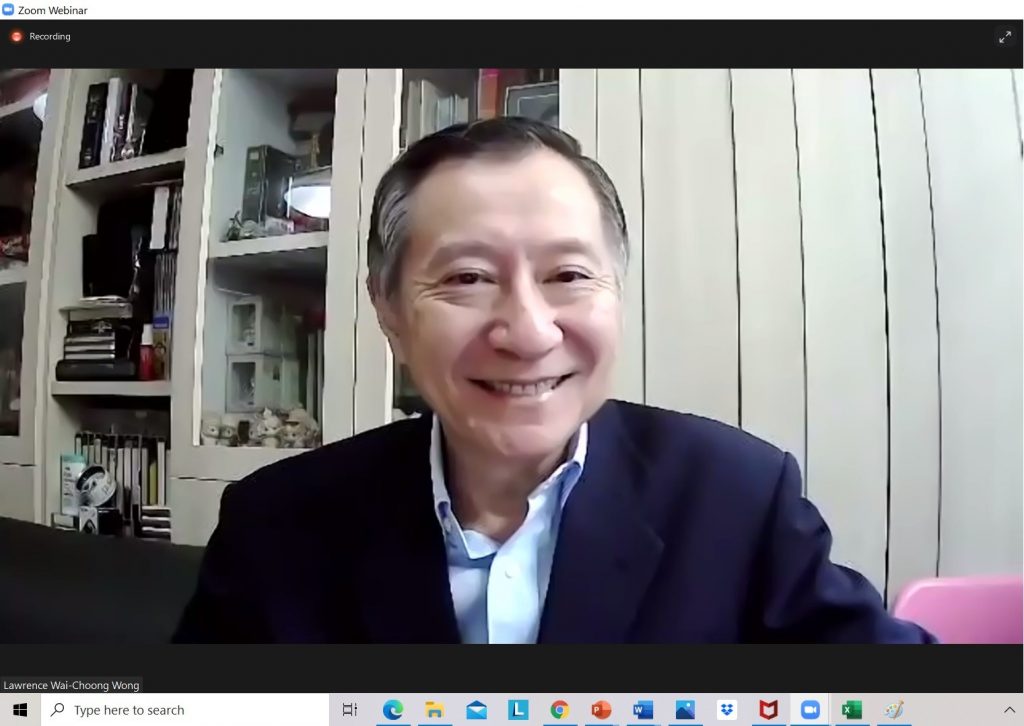 Figure 3: SingAREN President, Prof Lawrence Wong, speaking at the KAUST Global Connectivity launch event.
Please refer to https://www.kaust.edu.sa/en/news/connecting-kaust-at-the-speed-of-science for more information about the launch.